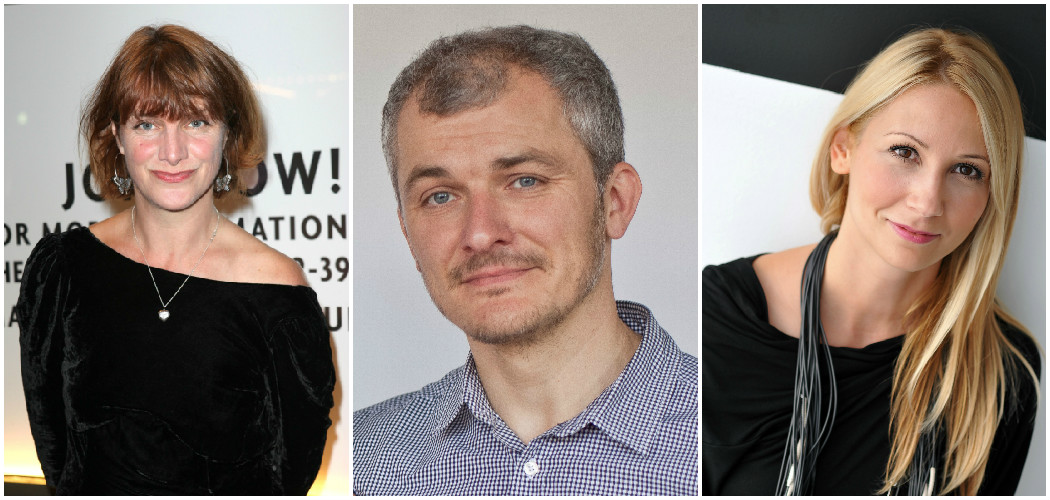 Ocjenjivački sud programa Susjedi i prijatelji:

Rebecca Lenkiewicz pisac je scenarija za film "Ida" zajedno s njegovim redateljem Pawelom Pawlikowskim. Film je osvojio BAFTA nagradu za najbolji film 2015. i Oscara za najbolji strani film 2015. godine. Jedna je od scenaristica filma "I Want to Be Like You" Konstantina Bojanova, koji je snimljen 2015. godine. Napisala je "The Sea Change" kojeg će režirati Kristin Scott-Thomas. U nastanku; četverosatna televizijska drama s Kevin Macdonaldom, mini serija s Lone Scherfig, i igrani film o životu Noor Inayat Khan. Njezine drame uključuju "Soho – A Tale of Table Dancers", "The Night Season" premijerno izvedena u Nacionalnom kazalištu 2004. godine i osvojila je Evening Standard nagradu kao najbolja scenaristica. Drama "Her Naked Skin" prva je drama koju je napisala žena a koja je izvedena na Olivier pozornici u Kraljevskom nacionalnom kazalištu."The Painter" je postavljena u Arcola Theatreu i "Shoreditch Madonna" u Soho Theatreu. Adaptacije uključuju "Neprijatelj naroda" Henrika Ibsena prikazan u Arcoli, a zatim i u Manhattan Theatre Clubu, Broadway. Rebecca je napisala mnoge drame i adaptacije za BBC radio među kojima su "Sarah and Ken" i "Ladder of Years".

Karel Och, rođen 1974. u Češkoj, studirao je pravo i diplomirao je povijest i teoriju filma na Karlovom sveučilištu u Pragu. Od 2001. godine radi za Međunarodni Filmski Festivl u Karlovym Varyma kao član Izbornog vijeća. Začetnik je natjecateljskog programa dokumentarnih filmova na Međunarodnom Filmskom Festivalu u Karlovym Varyma, te je vodio program retrospektiva posvećene Sam Peckinpahu, John Hustonu, Michael Powellu i Emericu Pressburgeru, Jean-Pierre Melvilleu i Elio Petriju, između ostalih. Och je 2010. godine izabran za umjetničkog direktora Međunarodnog Filmskog Festivala u Karlovym Varyma. Član je Europske filmske akademije, Izbornog vijeća nagarde LUX, kao i Međunarodnog udruženja filmskih kritičara.

Martina Petrović posjeduje diplomu iz međunarodnih odnosa (glavni smjer) i psihologije (podsmjer). Većinu svog radnog iskustva stekla je pri Ministarstvu kulture, u Upravi za međunarodnu kulturnu suradnju, gdje je bila odgovorna za međunarodne kulturne razmjene između Hrvatske i drugih zemalja, ali jednako tako i za organizaciju hrvatskog filmskog predstavljanja u Berlinu i Cannesu. Od 2008. godine aktivno sudjeluje u osnivanju Hrvatskoga audiovizualnog centra, gdje i ostaje nakon što ju Europska komisija imenuje voditeljicom MEDIA deska Hrvatske. Na temelju uspješnih rezultata u osiguravanju europskih sredstava iz Programa MEDIA te cjelokupna doprinosa u promicanju hrvatskoga filma Hrvatska udruga producenata dodjeljuje joj prvu nagradu "Albert Kapović" 2010. u okviru Zagreb Film Festivala. Kao voditeljica MEDIA deska Hrvatske (današnjeg Deska Kreativne Europe – Ureda MEDIA) aktivno sudjeluje u organizaciji inovativnih i kreativnih radionica - bitnih instrumenta naobrazbe, informiranja i umrežavanja kako hrvatskih, tako i hrvatskih i europskih filmskih profesionalaca.