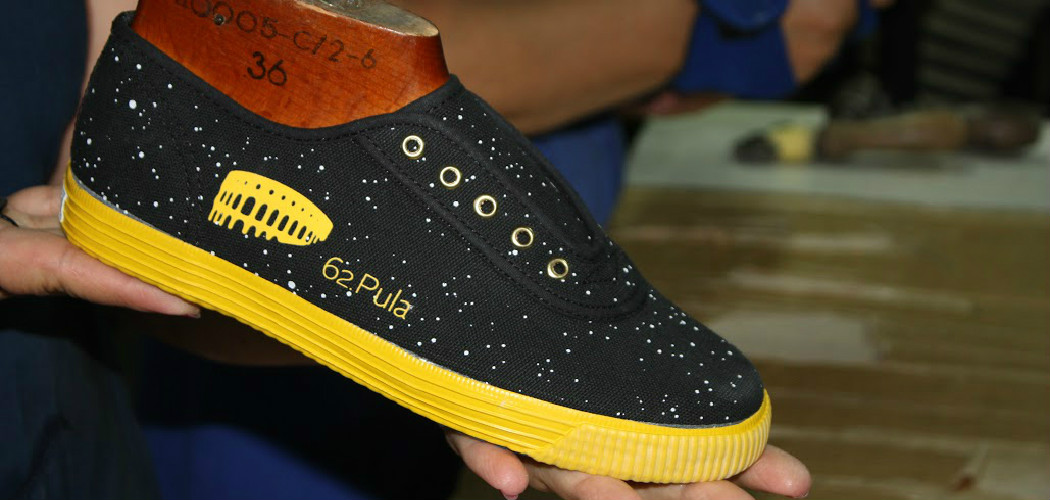 A media conference was held at the Pula Italian Community venue Circolo to present the new cooperation between Pula Film Festival and the manufacturer Borovo d.d. , the supporting programmes such as exhibitions and concerts, and 62. Pula Film Festival ticket prices.
The Director Gordana Restović announced a new collaboration between Pula Film Festival and Borovo d.d. . Pula County Chamber President, Jasna Jaklin Majetić expressed support for this new project, especially the merging of two recognisable brands; the Festival for film heritage, and Borovo for manual production using only natural materials – for the last eighty four years. Borovo d.d. brand manager, Dubravko Šimenc, recognised the moment of the joining of two recognisable products as the event that will mutually expand the range of known products by merging into one.
This is a film moment for Startas. Borovo's brand Startas is historically linked to sporting moments and major sport events. It was created and developed for table tennis players, but the flexibility of our production in Vukovar, the design approach to trainer production, and above all our love for STARTAS leads it to a variety of creative segments and becomes a way of creative expression whether it is in sports, fashion, music and creative arts, such as film making. The the connection with the national festival of film art is a stellar moment for Startas and that's why we decided to enter into cooperation with the feature "under the stars". "We wish all Festival fans many star steps in Pula Film Festival Startas trainers." Said Borovo project manager Damir Rupčić.
Director Gordana Restović presented the Festival exhibitions that will be held at five locations: Builders of the World - an exhibition about production design (Gallery C8), Mija Aleksić - To Be an Actor (SKUC - Serbian Cultural Centre), Streetkids United II: Girls from Rio – an exhibition of film set photographs (Gallery Makina), Cinemaniac 2015 Motovun video meeting ( MMC Luka), Idea, message, concept - exhibition of Pula's School of Art and Design posters (Cinema Valli).
She also announced the opening of the Festival info point on Saturday, 11th of July where tickets for the Arena at the price of 25 HRK per evening (two screenings), discounted student passes for all evenings in the Arena at the price of 50 HRK and pensioners passes at the price of 30 kuna, will be sold.
The entertainment programme will be held at Circolo from July 18th to July 25th every night and the audience will be entertained by the music of DJ Filjo, Barbari, Sara Renar, Tamara Obrovac and Transhistria electric, DJ Dogmatic, Jonathan, Ivana Rushaidat and Rakete, DJ Mario Kovač .
To view the production process of Festival STARTAS trainers click HERE.